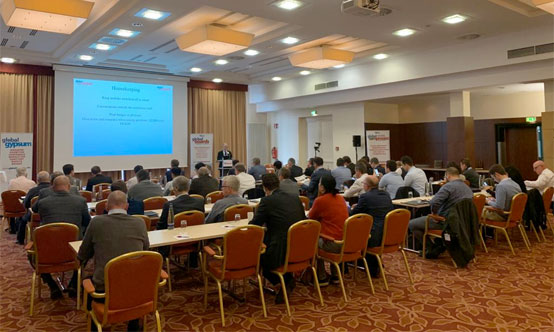 4th Global Boards Conference & Exhibiiton 2020
21 - 22 January 2020, Munich, Germany
View the conference photo gallery
The fourth edition of the Global CemBoards Conference took place in the Marriott Hotel in Freising, near Munich, on 21-22 January 2020, welcoming 50 delegates from 17 countries from around the world.
The conference was opened by the event organiser Robert McCaffrey, who gave an overview of cement-based boards, their physical and chemical attributes, their advantages and disadvantages over other board types and a brief look at production processes. He then gave a breakdown of global factory locations and capabilities of the world's leading cement-based boards manufacturers, pointing out that the industry is ripe for rationalisation.
Second up was Bruno Demey of Fibre Cement Services, who spoke about applications for cement-based boards. Swiss company Lico has pioneered cement-based boards as flooring, incorporating a felt layer under the board, an upper ink-jet printed pattern (perhaps looking like wood or slate) and then perhaps a dozen layers of durable UV-resistant transparent coatings. Scalamid and Eternit are also producing boards for flooring. TPI Fiber Cement Board produces similar products for floors, which are also used for outside patio flooring. Bruno suggested that the requirement for roofing per capita is decreasing, due to the trend towards urbanised multi-family living. Former roofing board manufacturers now tend to direct their energies towards manufacturing façades instead and these products are becoming progressively more sophisticated. In Asia, fibre cement boards (FCB) are rapidly replacing the use of wood, particularly due to the low maintenance requirement of FCB, with even door frames now being made of FCB. Japanese FCB company Nichiha has produced boards with recycled fibres and fly ash as ingredients and there is further potential for use of 'waste' products from the circular economy.
Bert van Elten of Eltomation next spoke on innovations in the field of wood-cement products. Wood wool cement boards (WWCB) are composed of strands of wood, some sodium silicate, OPC or, increasingly, white cement. Current market size in Europe is 18 - 20Mm2 per year, worth up to Euro200m and plants typically have a capacity up to around 12,000m2 per day. As well as being fire-rated and highly heat insulating, WWCB have particularly good acoustic attenuation properties. The boards are often used in multi-storey car parks, in swimming pool roofs, as wall coverings and increasingly as acoustic panels on walls and ceilings in domestic houses (partly in response to imminent European regulations). Very thick (>50cm) WWCB can be used for insulation, both for inside and outside retrofits. 'Very large building elements' can be created on dedicated production lines, incorporating computer-controlled cutting machines, which allow single or multi-storey buildings to be built in a matter of hours. Discussions are ongoing for application of wood wool products for mass housing schemes in a number of countries. Alternative binders are also being investigated to reduce or replace cement use.
Steve Marskell of the Magnesium Oxide Board Corporation of Australia spoke in favour of the use of MgO-based boards. Steve suggested that the CO2 emissions of MgO boards would be from -100kg to +100kg of CO2 per tonne of product. Steve exhorted delegates to focus on building materials and systems with low embodied calorific values, so that under fire situations the building materials will be safer. There are a number of MgO boards, utilising chloride-activation, silicate, phosphate, plaster, Portland cement and MgO sulphate board, with some have better performance than others.
Conference social evening
The conference social evening took place at the Bayerische Staatsbrauerei Weihenstephan, the world's oldest brewery, which was established in 1040AD. Participants greatly enjoyed the occasion.
Second day
The next day, Jean-Paul Lecomte of Dow Construct Chemicals started the presentation by speaking about the use of additives to enhance durability and aesthetics of fibre cement products. Jean-Paul emphasised the importance of protecting the products from water ingress. Using silicon-based compounds (including silanes, siloxane polymers, silicone resin or acrylates), the affinity of the construction material for water can be decreased. The physical properties of the additives can be altered by changing the chemical and physical attributes, and the additives can be applied just to the surface of the product or spread throughout the material by admixture during production. The additives can reduce mould growth, enhance the colour and surface texture of the board and can reduce efflorescence.
Dominik Jantke of Walker Chemie AG continued on to speak about hydrophobisation of cement-based boards using silicones. Such additives are tolerant of high alkalinity and high temperatures, they do not interact with UV radiation, are stable in all weathers and allow water vapour permeability.
Christoph Hesse of BASF Construction Additives GmbH next spoke about the use of calcium-silicate-hydrate (C-S-H) 'seeds' to accelerate the formation of C-S-H in cement pastes to speed strength development. For cement-based boards, this can lead to earlier strength in 'green' boards, prior to the autoclave, allowing boards to be matured at lower temperatures and thus saving energy. Seeding also accelerates strength gain in the autoclave, allowing target strength to be achieved 7 - 13 hours earlier than with unseeded boards, thus again saving energy in board production. Final strength of the boards has also been found to be improved, by around 4%.
Dirk Niepmann of Imerys Aluminates next spoke on the use of fillers in cement-based boards. Dirk suggested that boards in general are the answer to a variety of challenges facing the building industry, primarily the scarcity of skilled workers. Lightweight aggregates, such as perlite, can be used to decrease the weight of the product, while calcium carbonates can be used as fillers and to modify production kinetics. Bentonite, wollastonite, kaolin and metakaolin, and 'Micrasil' can be used variously to improve durability, to reduce efflorescence and to increase whiteness of the product. The use of calcium aluminate cement as an additive or ingredient increases strength development, water resistance, acoustic and thermal insulation, biogenic corrosion resistance and fire resistance.
Allan Detlefsen of Tentoma gave the final presentation at the conference, on horizontal stretch-hooding for cement-based boards. Stretch film reduces the amount of plastic that is required for packaging, from 185g to 105g compared to shrink film, while there is no need for heat to shrink the plastic onto the product, since it is just stretched over the product instead. Although capex and film prices are higher for stretch-hooding, the decreased use of film and absence of heating mean that opex is lower and the system will have an overall cost that is lower after one or two years.
Conference prizes and farewells
In the best presentation prizes, Christoph Hesse was third for his presentation on C-S-H seeding, Bruno Demey of Fiber Cement Services was second for his paper on new cement-based board applications, while Bert van Elten was first for his paper on wood wool cement boards.
The event questionnaire showed that this was the highest-rated-ever Global CemBoards conference, with delegates especially praising the event for its organisation and networking opportunities.
In line with delegate requests, the 5th Global CemBoards Conference and Exhibition will take place in Brussels in spring 2023.
Delegate comments
Thanks!
Good conference, thank you.
Organisation and attendants very friendly and kind
Perfect time organisation
Thanks for organising!
Very well done!!! Thanks for your efforts in organising the event.
Nice organisation!!! Very professional.
It was the first time, I attend at the GCB Conference and I was really impressed.
I didn't expect such a global presence of attendees.
I have made many new contacts that could be important for further business.
Big compliments on the organisation and implementation.