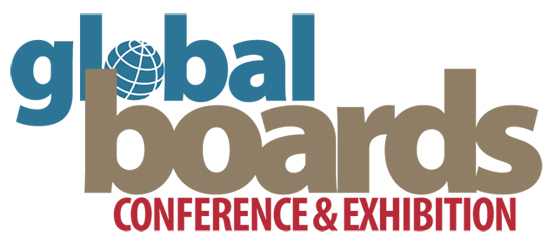 1st Global Boards Conference & Exhibiiton 2014
30 - 31 January 2014, London, UK
Global Boards Exhibition and Conference - 2014 gallery (large gallery - may take time to load)
View the conference video of the 1st Global Boards Conference & Exhibition 2014
The inaugural Global Boards Conference took place in London on 30 - 31 January 2014, gathering delegates from 23 countries and from as far as Brazil and Australia. All cement-based boards were considered, with market developments and production innovations under discussion. Highlights of the conference are described here. The event will take place again in January 2016 in London, with details at www.GlobalBoards.com.
The amount of cement that is used in the manufacture of cement-based boards is miniscule compared to global cement production. However, the total tonnage used in board production is growing, as board properties are improved, as potential users become more sophisticated in their selection of budiling products and as cement producers attempt to penetrate into ever higher value-added market sectors.
Global Cement Magazine was the organiser of the inaugural Global Boards Conference, in London at the end of January, which brought together cement-based board producers, additive suppliers, equipment manufacturers, researchers and consultants from around the world.
The conference was started by Emma Davidson and Amy Saunders, who gave an overview of the main types of boards, and the main manufacturers. The presentation was based on the article 'Cement boards 101' published in the January 2014 issue of Global Cement Magazine.
Second up was Mandy Schweitzer of Johns Manville Roofing systems, speaking on a high-density polyiso-based board. The US 'low-slope' roofing market was previously dominated by bituminous materials, but this has decreased to a small part of the market. Above the roof deck will be a layer of insulation, which is then covered by a cover board. These two layers perform well together, by eliminating thermal bridging and by reducing membrane stress: with mechanically attached insulation, cover boards give a rigid base with lower membrane stress. A cover board also provides protection for the insulation from any foot traffic damage and prevents ponding. Typical roofing cover boards include cellulosic (perlite and wood fibre), gypsum and high-density polyiso systems. The polyiso systems are not compatible with asphalt/bituminous systems, due to temperature constraints. Mandy stated that "Each cover board has its place." Gypsum cover boards have been used for over 20 years and began as a barrier to fire from within a roof, but these boards have now tended to be moved above the insulation foam. Gypsum-based boards have a number of advantages, such as sound-control, high wind uplift resistance, high strength and excellent fire-resistance. High-density polyiso boards have been known about for years but were first commercialised by Johns Manville in 2005 to compete with gypsum boards. JM's 'Invinsa' board is equivalent to 1 - 1.5 inch of polyiso foam but which is only allowed to expand to 1/4 inch, giving a high density core, which is then faced with a fibreglass facer. The boards are made on the same line as low-density polyiso foam boards, with two chemicals mixed at a mixer before immediately being spread onto a lower facer and then being topped by another facing layer. The product is governed by ASTM C-1289, with different grades recognised, depending on varying compressive strengths. Despite its 'high density,' due to the strength of the product, the board is around one third of the weight of a similar gypsum board. The board is flexible and is not brittle, and has very low water absorption, of less than 2%. The board has an R-value of 0.21W/m2/k. The coated glass facings are smooth, non-porous for low adhesive absorption and have no need for priming, while at the same time being easy to cut and score, producing no dust.
Markus Mueller of Sika Services next spoke about water-reduction additives for the production of cement-based boards. High-range water reduction (HRWR) technologies are applied in many different fields. Markus pointed out that the highest strength development in a cement mortar will come with the lowest water:cement ratio, although with low workability, but with higher water ratios, strength reduces. Superplasticisers can be used to improve workability at lower water:cement ratios, or to improve strength at the same water:cement ratios (or some combination of improved properties). Additives have been evolving over the years, with newly-developed poly carboxylate ethers (PCEs) applying steric dispersion effects to achieve up to 40% water reduction with the same strength/workability. PCEs can be specially synthesised to 'tune' their properties in terms of water reduction, strength development or slump control, or their response to blended cements including limestone, slag, silica fume or ash. Critically, Markus pointed out that the amount of water that is required at the wet-end mixer in a gypsum wallboard process line can be dramatically reduced (by up to 25%), thereby saving costs when it comes to driving off water in the drying process. In the cement board production process (primarily the wet 'Hatschek' process and the 'semi-dry' Elmendorf process), the additives can be used to improve the wetting properties of the wood particles, while providing better suspension flow, reducing segregation risk, promoting better molding behaviour, reducing seep through facing layers, allowing precise adjustment of processing time and creating reduced board drying demands and higher early strength. At the same time, the additives reduce shrinkage and cracking and improve the final material properties and board surface quality.
Peter Leewis of Eltomation next spoke about possible new market opportunities for wood wool cement boards (WWCB). The 'wool' part of the board is actually fine wisps of wood with the consistency of wool. The boards have good thermal insulation and sound absorbency, wet and dry rot resistance, fire resistance, termite resistance, high thermal storage capacity, a light weight and easy handling, and form an excellent base for stucco and plaster. The boards use a standard fibre length of 25cm, which adds greatly to the strength of the boards. Thicker panels can have reduced densities, resulting in better insulating properties (0.19W/m2/K), while the addition of other insulation sandwich material can further boost desired properties. The boards have high fire resistance, with a 25mm-thick board giving a 1 hour fire resistance. The boards are commonly used for permanent shuttering, where they are filled with concrete and where they form an insulation layer on either side of the concrete. For prefabricated house building, smaller building elements can be reduced in weight to 80kg, meaning that they can be installed by a two-person team. Peter pointed out that when the board is incorporated into a load-bearing structure, it is easy to gain approval for use, compared to the relatively conservative regulations for the use of the boards on their own. Eltomation's plants can produce board with density ranging from 340 - 1300kg/m3. A typical line can produce around 75 full-scale ('house-sized') panels in 24 hours. The system has the advantage of requiring very little labour on the job site, with the elements being manufactured to architects' specifications in the factory, using computer controlled cutting techniques.
Anton Hendl next presented Lindauer Dornier's drying technology for the production of fibrous building boards, including gypsum fibreboard, mineral fibreboard, cement fibreboard and softwood fibreboard. The dryers can be up to 120m long with multiple decks, allowing their use on very high-capacity production lines. Each deck is driven by a single-deck drive. A fine chained conveyor belt is used to transport the fibre boards through the dryer. Skewing is not possible with the fine-chained conveyor belt, compared to the possibility of skewing with conveyor rollers. Additionally, boards cannot break and fall between conveyor rollers and nor is there the possibility of boards sagging if the line is stopped for any reason. Nozzle jets are used to create symmetrical and uniform drying air distribution for consistent drying on each deck. Each of the modular zones along the dryer can be separately temperature controlled, thus avoiding under-or over-drying of the boards.
Per Nissen of Qubica, a well-known company in the field of insulation material processing and product handling, next spoke about automation in handling. His company's equipment exports are split into three: one third in Europe, one third in North America, and one third in Russia and Eastern Europe. The company, Per explained, has capabilities from the end of the dryer, all the way through to the facing equipment, slitting and splitting saws, the line stackers, the packing machine, through to the palletising area and stretch hooding equipment. Qubica feels itself well-placed to provide services to the cement-based board industry.
After the first day of the conference, delegates enjoyed a convivial and informal evening at a local London pub.
Second day
On the second day of the conference, Christos Dedeloudis of S&B Industrial Minerals spoke about a variety of mineral-based functional components in the production of fibre-cement and cement-based boards. Perlite is a naturally occurring silicious rock, which can be expanded to form a very low density (30 - 150kg/m3) mineral with very low thermal conductivity. Adding perlite to fibre cement boards at up to 10 - 15% by weight offers a unit weight reduction of the board, improved thermal insulation, improved freeze-thaw resistance and improved fire resistance, acoustic properties and shock absorption. Perlite also acts as a bonding aid between the layers forming the board due to reactions with the pozzolanic components of the board. Christos mentioned that his company is working on development of a closed structure perlite through a controlled expansion process, which would have five times higher compressive strength than normal expanded perlite. S&B is also trying to create a synthetic expandable material with improved thermal conductivity, higher strength and lower embodied energy using mine tailings, as part of the LEEMA project. Wollastonite is another naturally occuring calcium silicate granular or fibrous mineral. The fibrous form has been shown to have no biotoxicity, and can be used as a replacement for asbestos in mineral-based boards. Wollastonite has a high flexural strength, aids in preventing delamination, can aid in processing and fibre dispersion, aids water drainage and dimension stability, adds to fire resistance and also reduces cracking and shrinkage. Finally, Christos gave details of 'Micrasil,' an amorphous aluminosilicate of volcanic origin, processed in powderous form and with natural pozzolanic properties. Micrasil is added to fibre cement boards in 3 - 6% by weight and adds plasticity to the product, allowing the layered sheets to adjust to the shape of the mould without cracking or delaminating. It allows the different layers to be bound together but still to be able to slide over each other. Micrasil has other beneficial effects on boards, according to Christos.
Chris Skinner of Owens Corning explained how glass facers can transform the boards industry. Ownes Corning is one of the leading producers of fibreglass in the world, having bought Saint Gobain's fibreglass business in 2007. Chris explained the mat productino process, taking wet chopped strands of fibreglass, adding additives, laying the strands on a moving belt with water then being extracted, with the mats then dried and inspected, rolled and cut to specific width to form a very fine glass fibre mat. Chris pointed out that the market for glass non-woven mats is concentrated in North America and in Europe, but that China's market is developing quickly. Glass non-woven mats can be added to a variety of board and panel products to provide moisture resistance, fire resistance, improved aesthetics and improved acoustic performance. The mats are particularly value-adding to ceiling tiles, but also add value to both gypsum panels and insulation panels. Chris spoke about a case study of adding value to a gypsum wallboard producer's products by adding a glass non-woven mat, to create a whole new product category, which has subsequently been further grown through adding new functionality to the boards. He suggested that these mats can add further functionality to both wood panels and to cement-based panels.
Bodo Lill of Leitz GmbH gave the penultimate presentation at the conference, on cutting tools for optimised non-wood board production, in particular for cemented fibre boards. These boards are extremely hard, brittle and abrasive and are difficult to cut, compared with either gypsum or wood-based boards. Dedusting air flow rates must also be higher than for wood-based boards. Polycrystalline diamond is used to tip the cutters and saw blades, for cleaner cuts, while the boards must be accurately presented to the cutters and must not be subject to vibrations during the cutting process if accurate cuts are to be acheived. Different tools can be employed to apply edges, grooves or profiles on the wet or dry boards. Proper dust extraction is essential to prolong tool life and the lifetime of the cutting machine. However, some producers do not use any kind of dust hood for dust collection, resulting in accelerated tool wear and maintenance problems.
Axel Giesecke of Dow Corning presented a multi-authored paper on silicon-based hydrophobisation of fibre reinforced cement (FRC) boards. FRC boards are typically used for challenging water-prone environments. The reduction of water uptake can improve the lifetime of the product, as well as its dimensional stability, while also improving the adhesion of paints and top coats. Application options include surface protection or mass or integral protection, where the hydrophobisation is mixed into the matrix of the board. Silicone water repellents lower the surface energy of the board and reduce the capillary forces in pores, converting the surface from being hydrophilic to hydrophobic. Skillful blending of silanes, siloxanes and resins can result in very effective protection from water. Axel stated that the incorporation of the materials into the mix as an admixture has a minimal impact on mechanical properties including compressive strength.
Awards and farewells
At the end of the conference a series of discussion groups were held, covering equipment, additives and market developments, and giving rise to much useful and interesting information. During a final farewell lunch, prizes for the best presentations were awarded, as voted-for by the delegates. In third place was Peter Leewis from Eltomation, and in second place was Christos Dedeloudis of S&B Industrial Minerals. Axel Giesecke of Dow Corning won first prize for his paper on options for silicon-based hydrophobisation of FRC boards.
Delegates at the inaugural Global Boards Conference rated the event highly and requested that it be repeated regularly. In consequence, the 2nd Global Boards Conference and Exhibition will take place in January 2016, back in London once again.
As a final thought, the organisers calculate that a total of approximately 2000 new contacts were made at the conference between delegates. That's a lot of networking!